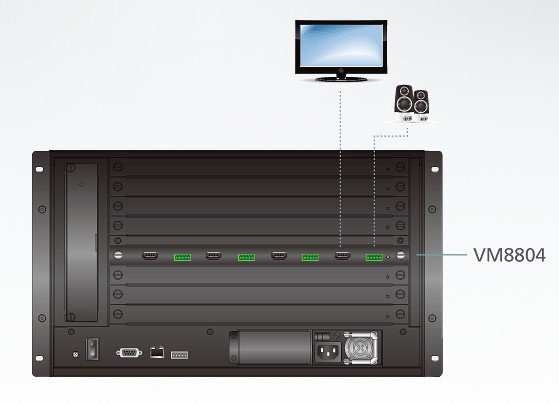 Üstün görüntü kalitesi 480p, 720p, 1080i and 1080p (1920 x 1080) HDTV çözünürlüklerini destekler.
HDMI (3D, Deep Color); HDCP 1.4 Uyumlu
Seamless Switch™– görüntüler duraksamadan gerçek zamanlı görüntülenir*
Her çıkış port'unda scaler özelliği mevcut
Consumer Electronics Control (CEC) desteği
EDID Uzmanı – süratli şekilde çalışır hale gelebilmesi ve yüksek görüntü kalitesi sunabilmesi amacıyla optimum EDID ayarlarını seçer.
Entegre EDID ayar sihirbazına sahip
Sökülüp takılabilir
Ses desteği, HDMI ses ayrıştırılabilir (extracted) ve stereo ses yerleştirilebilir (can be embedded)
Not: Seamless Switch™ özelliği devrede olduğu takdirde 3D, Deep Color görüntü ya da interlace (i.e., 1080i) çözünürlük elde edilemez. Bu özelliklerden faydalanabilmek için alanabilmek için Seamless Switch™ özelliği devredışına alınmalıdır.
Ekran Girişi
Arayüz
4 x HDMI Tip A Dişi (Siyah Renk)
Empedans
100 Ώ
Ekran Çıkışı
Arayüz
4 x HDMI Tip A Dişi (Siyah Renk)
Empedans
100 Ώ
Ekran Özellikleri
Maksimum Veri Hızı
6.75 Gpbs (2.25 Gbps Per Lane)
Maksimum Piksel Clock
225 MHz
Uygunluk
HDMI (3D, Deep Color)
HDCP 1.4 Compatible
Consumer Electronics Control (CEC)
Maks. Çözünürlük
Maksimum 1920 x 1080
Maks. Mesafe
15 m
Ses Özellikleri
Giriş
4 x Captive Screw Konnektör, 5 Pole
*Ses sinyal tipi: stereo, balanced/unbalanced.
Çıkış

4 x Captive Screw Konnektör, 5 pole

* Audio signal type: stereo, balanced/unbalanced.

Güç Özellikleri
Tüketim: 23.13W
Çevresel Özellikler
Çalışma Ortamının Isısı
0 - 40°C
Depolandığı Alanın Isısı
-20 - 60°C
Nem Oranı
0 - 80% RH, Non-Condensing
Fiziksel Özellikler
Şasi
Metal
Ağırlık
0.58 kg
Boyutlar (E x B x Y)
35.20 x 23.80 x 2.28 cm